FAQ-CategoryMaterial
We use standard black pvc / vinyl plates with 1,5mm thickness. In our assortment, you will also find various colored and transparent vinyl with "heavy" 2mm or 180gramm!
every single plate has been checked and is made especially for our cutter. This makes them extremely durable and there are no problems with scratching. thanks to the deep groove cut, our plates are even better for scratching than conventionally pressed plates.
transparent vinyl with 1.0 mm is also possible and is, on the one hand, particularly suitable for quick and easy scratching, and on the other, more sensitive. unfortunately, only one side can be played here.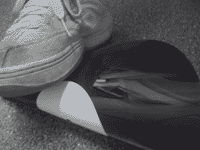 Newcomers in the world of analogue sound reproduction often ask themselves the question of how the production of a vinyl record works or is called. clearly, a legitimate question that we like to clarify!
Vinyl records are only produced by:
Even if it is often asked or expressed: No! Vinyl records can neither be burned nor printed, insofar the intention is to make audiorecords out of vinyl.
choose from our categories